$decoded_title = html_entity_decode ($title); ?>
Portia's Song Videos
The winners of our competition to win an amazing prize of £5,000 ($8,000) for yourself or £10,000 ($16,000) for charity have now been announced and you can enjoy watching the videos by clicking the links below:
To learn more about What about Love? the music-CD which features Portia's song click here.
Portia's song original video
First prize winner:
Joint Second Prize Winners:
Discretionary Prize:
Other entries: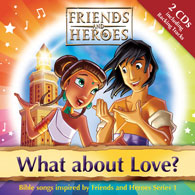 What about Love? Portia's song is the title track from the album: What about Love? : Bible songs inspired by Friends and Heroes Series 1. A music CD for the whole family! You can learn more about this exciting music resource here!