$decoded_title = html_entity_decode ($title); ?>
What about Love?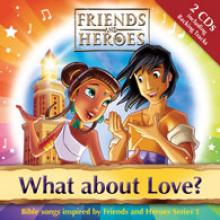 Friends and Heroes is proud to present...
What about Love? : Bible songs inspired by Friends and Heroes Series 1. A music CD for the whole family!
"As a mom who all-too-often struggles with the catechesis side of my job, I love that these songs make my six-year-old ask for specifics about Bible stories. As a mom who all-too-often opts to read the fun story instead of the Bible story, I love that these songs tell those stories in a memorable and non-annoying way. As a mom who all-too-often just lets the kids watch a movie in the van, I love that this CD gives me an opportunity to sing along with them without losing my sanity. To the folks at Friends and Heroes, I say: THANK YOU. To you, I say: BUY THIS."
Sarah Reinhard - catholicmom.com Read all that Sarah said here!
Music is a powerful force – and songs can carry a life-changing message not just into children's lives – but to everyone who hears it!
That's why we asked some of the UK's leading song-writers to create songs inspired by the Bible stories in Friends and Heroes Series 1. Then we found an amazing record producer who found some awesome musicians and vocalists to bring them to life...
...the result is What about Love? : Bible songs inspired by Friends and Heroes Series 1 – and it's absolutely amazing!

"We didn't expect our team to create a whole new genre of Christian music – but that is what they have done", said David Dorricott, Executive Producer of Friends and Heroes. "These songs are brilliantly entertaining and powerfully moving – and they carry Bible truths right into your soul. You go to bed humming them and then wake up with them still in your head: and don't for one minute think these are simple children's songs – they are sophisticated, professional and stretch the boundaries of mainstream Christian music."
There are 19 tracks on this CD: 13 of these are inspired by the Bible stories plus four songs, each one about a Friend and Heroes character - Macky, Portia, Toadie (Tobias) and Leah. Then we added Looking for a Hero - Friends and Heroes' theme song, and as if that wasn't enough we also included a Gospel re-mix of the CD title song, What about Love?
But there's even more! The package contains 2 CDs - one with the 19 vocal mixes and the other with the same songs as Backing Tracks so that you can sing-along karaoke style! The 20 page booklet inside the box has all the song lyrics to make that easy too. Not only that, but we have created free Song Time activities to complement the songs on What about Love? These may be used as optional additions to school or Bible lessons, or can be used as stand-alone activities.

You can learn all about the Song Time activities by clicking the link below:
Song Time Activities and Song Lyrics
We thought that you'd like to hear and see samples of all these great songs so simply click the titles below to play them:
1 – Joseph, Joseph
2 – Red Rope
3 – All Join Hands
4 – Down came the Fire
5 – Brave Queen Esther
6 – Do the Right Thing
7 – Daniel
8 – He chose the Shepherds
9 – Put a Ring on his Finger
10 – Remember Me
11 – Turned Around
12 – Friends from Different Families
13 – There is Always Hope
Bonus Tracks
14 – Looking for a Hero
15 – I'm Your Man
16 – What About Love?
17 – Working on Another Scheme
18 – Horseplay
19 – What About Love? Gospel Mix

Or click the play button below to watch the What about Love? Portia's Song video!
Running time approx: 3 min 33 sec
"I cannot believe how wonderful the songs are on this new CD and the thought that has gone into them and the supporting teachings. Once again you have blessed us with the material to spread the good news to children in a way that they can understand and they love it!" Jackie Tripp
You can order this fantastic music CD from your local Christian bookshop or
click here to order this wonderful new music CD from our online store.