$decoded_title = html_entity_decode ($title); ?>
Homeschool Bible Study Curriculum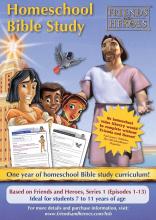 Series 1 and 2 Homeschool Bible Study now available!
Homeschool Bible study curriculum your children will want to use over and over again!
Based on Friends and Heroes thrilling adventures and life-changing Bible stories, this curriculum provides everything needed for a full year's worth of homeschool Bible study.

Plus, your whole family will enjoy the episodes on DVD for family viewing for years!
Includes:
Episodes 1-13 on six multi-language DVDs in an attractive slipcase. (If DVDs are selected.)
36 weeks of homeschool Bible study curriculum (per series). See details below.
Plus bonus material: Family activities for Christmas, Valentine's Day and Easter! (Series 1 only.)
Lessons based on Friends and Heroes video adventures and Bible stories children love.
Easy-to-use homeschool Bible study curriculum designed for students ages 7-11 years.
Active, creative lessons that help kids learn while having fun!
Helpful teacher's guide.
All materials are printable and reusable (PDF files) and can be used with multiple students simultaneously or over multiple school years!
Loads of FREE online resources on our Children's Website to supplement your class time.
Every lesson includes:
Introduction

Reference for the week's Bible story
Background information and introduction of the week's learning objective

Memory verse (optional)

Bible Study (approximately 30 minutes to 1 hour depending on optional video viewing) - Fun interactive lessons that dig deeper into many of the Bible's most important stories through:

Bible stories
Video
Discussion
Creative activities

Devotional (approximately 10 minutes)

Application of the week's learning objective
Devotional activity
Discussion
Prayer time

Optional Activities - Fun interactive games and puzzles to reinforce each week's learning.
What does it cover?
Kids will learn to apply God's truth from timeless Bible stories such as
Daniel in the Lions' Den
,
Jesus and the Miraculous Catch of Fish, Ruth and Naomi, Saul on the Road to Damascus
, and
Jonah and the Big Fish.
For more details, download a complete list of the Bible stories and lessons included in the curriculum.
We recommend that you first download and print the sample lesson and then watch the video segment below. This will help you to experience and understand how the curriculum and videos work together.
Sample lesson - Week 1: Based on Daniel in the Lions' Den from episode 1, Long Journey
We hope you like the material you download on this page and we would like to keep in touch with you, so please tell us who you are by registering for our email newsletter.
Here's a little of what homeschool blogs and real homeschool parents are saying about the Friends and Heroes Homeschool Bible Study Curriculum: 
"Very entertaining, and engaging, but also full of information at the same time." Confessions of a Homeschooler Blog - read the full review.


"We had a GREAT discussion which stemmed from the curriculum, all about the disciples and how Jesus called them. We will be continuing on with this curriculum after this review, she is really enjoying it and I am loving our discussions." 1+1+1=1 Blog - read the full review.


"We are a homeschooling family of 6 children ages 13, 11, 8, 7, 5 and 2, and we have struggled to find a Bible curriculum that would include all of our children...until now!" Michelle M., Parent 



"It makes my heart happy that when I tell the kids 'let's do another lesson' they don't fuss. Instead, they gladly stop whatever they are doing and come and are ready to watch and listen. I can't wait to do more lessons!"

Heather C., Parent