$decoded_title = html_entity_decode ($title); ?>
The FUN way to learn Bible stories and lots more!  
Friends and Heroes brings the Bible to life!
Boys and girls will be thrilled by the first-century adventures of Macky and his friends and their lives will be changed forever by the powerful Bible stories featured in every episode.
How better to enjoy family time than to sit together and watch a family DVD.
Children and adults alike love our award-winning animated stories. Open the tabs below to find out more... 

Every DVD features at least two Friends and Heroes episodes, in ten languages, plus exciting extras!
You can also buy our Family DVD Collections, each featuring 13 episodes on six DVDs in an attractive slipcase!
Collections are available for:
You can browse the whole DVD collection here.

"My children love Friends and Heroes and so do the children of my friends. This is a high quality adventure for children which supports the values we all want to see in action. What a fantastic series."  N.H., Parent
Based on Friends and Heroes
thrilling adventures
with
life-changing Bible stories
, this curriculum provides everything needed for
a full year's worth of homeschool Bible study
.
Click
here
for all the details on our Homeschool Bible Study Curriculum!
Friends and Heroes
Homeschool Unit Studies
are based on our award-winning animated adventures with Bible stories on DVD.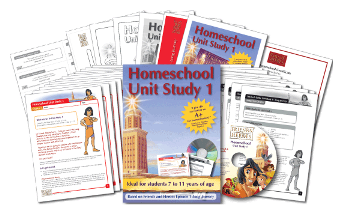 Each unit study contains cross-curricular learning in a single all-in-one lesson pack - exciting, hands-on, easy-to-use, attractively designed, colorful and fun!
Visit our Homeschool Information Page where you can learn more, download free curriculum samples and view a video clip.

"We are a homeschooling family of 6 children ages 13, 11, 8, 7, 5 and 2, and we have struggled to find a bible curriculum that would include all of our children...until now!" Michelle M., Parent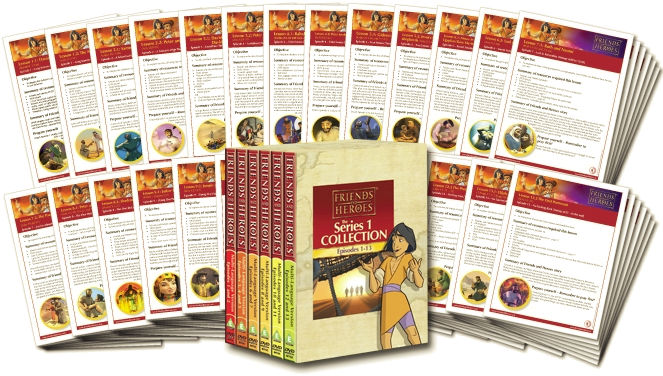 Friends and Heroes Organisation Packs
are based on our exciting animated programs and include a lifetime public display licence and downloadable Bible lessons for churches or schools.
You can download sample lessons, view a video clip and learn all about our Bible curriculum by visiting our information pages for churches and schools.
We also offer Resource Packs for special occasions like Holiday Bible club, children's outreach parties or Halloween alternative events.

"Friends and Heroes is the easily best resource for teaching Bible stories that I have come across."  A.K., Children's Ministry Leader
---
Streaming Friends and Heroes
---
Explore Friends and Heroes now
- just click on a button to find out more

 
---