$decoded_title = html_entity_decode ($title); ?>
Home Education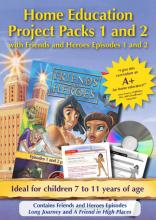 Imagine a cross-curricular Home Education resource inspired by Friends and Heroes' award-winning, animated adventure DVDs containing Bible stories!
That's what the brand-new Friends and Heroes Home Education Curriculum offers you and your family. Each Project Pack includes a DVD, containing the Friends and Heroes episode which inspires the teaching material, plus PDF files containing the self-guided Project Manual – usually around 50 pages - and a comprehensive Parent's Guide with internet links, background information and teaching support.
"I give this curriculum an A+ for home educators!"
Gena Suarez, Publisher - The Old Schoolhouse® Magazine
Available individually or as a series of 13 Project Packs featuring both Old and New Testament stories, this material is absolutely unique and very engaging for both children and their families!
Thrill to the adventures of Macky and the Friends of Jesus as they resist the Romans and learn from the exciting stories they tell.
"...even my "older" two kids (ages 15 and 13) enjoyed watching the DVD with my 7-year-old although they might not want to admit it! They thought it was really neat how the stories that the children told were true stories of what actually happened in history and the Bible while the characters in the DVD and their adventures are fictional. I personally liked it because that made it easier for my 7-year-old to understand which parts actually happened and which parts were made up."
WH, Home educating parent
The Project Packs provide cross-curricular learning in a single all-in-one lesson pack – easy-to-use, attractively designed, colourful and fun. They cover:
• History/Geography
• Creative writing
• Bible study
• Science (creation-based)
• Crafts and
• Discipleship...
...with all subjects taught from a Christian worldview!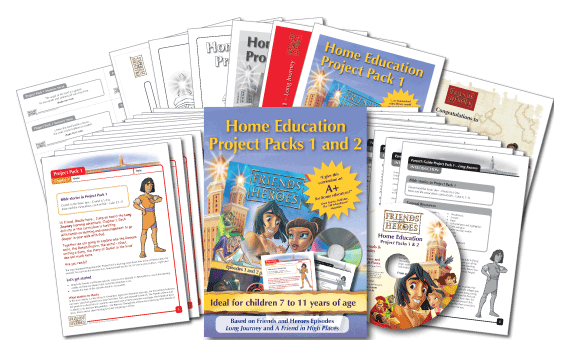 Each Project Pack includes:
• a self-guided Project Manual
• a full Parent's Guide
• a Series Parents' Overview and
• a Friends and Heroes DVD as stimulus material.
Click on the red links above to open sample files. The Parent's Guides include internet links to richly illustrate the topics and serve as a resource for children who wish to pursue a topic further.
Click the image below to view the Friends and Heroes video excerpt related to the sample material above.
"The art and animation in this series is exceptional and the story is captivating. Both my 12 year old and 5 year old granddaughters loved it. They are already asking for more. My girls were thrilled with having the opportunity to use this curriculum and are eager for more. I enjoyed the clear instructions given in the Parent's Guide and appreciated the amount of thought and study that went into preparing this resource. There is much to enjoy here."
Christine Hindle, Reviewer - The Old Schoolhouse® Magazine - click to read review
The Project Packs are ideal for students 7 to 11 years of age and the DVDs are attractive to a wider age range!
The Friends and Heroes children's website provides support material for learners - child-friendly and full of exciting puzzles, quizzes and games plus information about Bible characters, Bible places and Friends and Heroes characters and storylines. See www.friendsandheroes.tv
"Destined to become "classics" among home educating families, Friends and Heroes video productions will transport your child's fertile imagination back through the ages, to a time when Bible narratives were being lived out for the very first time!
Cast within the setting of first century Roman culture, follow Macky and Portia from episode to episode, through adventure and danger, encountering lessons of virtue along the way, as they learn to place their faith in the God of the Bible.
Each storyline will captivate your child, illustrating for them godly character through biblical vignettes lifted directly from both the Old and New Testaments narratives.
Professionally crafted by award winning artisans, Friends and Heroes combines the best in video entertainment with godly values, and a wholesome standard that can only be gleaned from the pages of Scripture.
Certainly, without exaggeration, no home education video library would be complete without Friends and Heroes."
Paul A. Suarez, Publisher - The Old Schoolhouse® Magazine
Each series has 13 Project Packs...

...every one featuring two themed Bible stories (usually one Old and one New Testament). They are renewable and reusable – use with multiple children in your family simultaneously or over multiple school years... and there's nothing more to buy!
To make a purchase click the store button on the menu above.