$decoded_title = html_entity_decode ($title); ?>
Family Devotion Pack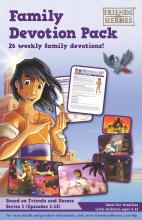 Available NOW!
Series 1 Family Devotion Pack
Devotions the whole family will love!
Based on Friends and Heroes exciting video adventures with life-changing Bible stories, this Family Devotion Pack provides everything you need for 26 weekly family devotions!
Plus, your whole family will enjoy the episodes on DVD for family viewing for years.
Includes:
Episodes 1-13 on six multi-language DVDs in an attractive slipcase.
26 weekly family devotions. See details below.
You can try Friends and Heroes Family Devotions FREE for two weeks!
Click the tab below to learn more.
Devotions based on video adventures and Bible stories that children love.
Easy-to-use parent-led devotions created for families with children ages 5-12. 
Dynamic, fun devotions designed to get the whole family involved.
All materials are printable and reusable (PDF files).
Loads of FREE online resources on our Children's Website to supplement your devotional time.
Watch Together (approximately 5-25 minutes depending on optional viewing) - Fun and exciting video from Friends and Heroes episodes.
Read Together (approximately 2 minutes) - Scripture reading centered on the devotion's Bible story and its central theme.

Explore Together (approximately 8 minutes) - Dig deeper into the Bible and its meaning through:

Optional memory verse.
Bible exploration questions.

Share Together (approximately 10 minutes) - Discussion time focused on applying the theme of each week's devotion.
Pray Together (approximately 5 minutes) - Guided prayer time for the whole family.
Plus optional age-appropriate activities - Fun, interactive games and puzzles to futher reinforce each week's theme.
Kids will learn to apply God's truth from timeless Bible stories from the Old and New Testaments such as Jonah and the Big Fish, Saul on the Road to Damascus, Daniel in the Lions' Den, Jesus and the Miraculous Catch of Fish, and many more!
To learn more, download a complete list of Bible stories and themes.
Here's a little of what parenting blogs and real parents are saying about the Friends and Heroes Family Devotion Pack: 
"(The) video series (is) just SO good and teaches so much church history as well as specific Bible stories. I like this Family Devotion Pack because of the discussion, simple extension printables and verse cards...It is extremely flexible and can be adapted to use however best fits your family." 1+1+1=1 Blog - read the full review.


"Friends and Heroes made devotion time the highlight of our evenings!" Audrea E., Parent


"Loving this program. The boys are really looking forward to doing our next devotional...My husband especially enjoys leading the prayer and having some direction on what to specifically pray for." Jennifer B., Parent
A variety of delivery options (packages with our without DVDs; curriculum delivered by download, CD-ROM, printed currculum) are available for your convenience.