$decoded_title = html_entity_decode ($title); ?>
He chose the Shepherds
The stunning Nativity video for the whole church
Click the play button below to watch the video!



Share this video with your friends!
To download a FREE High Resolution (290mb) version of this video, click here. Please note that you need to be a registered user of our website to download the higher-resolution video. It is FREE to register and create your own Username and Password on the next page, if you don't already have one!
Song Time activity material
We have created activities to complement the He chose the Shepherds music video. These may be used as optional additions to School or Bible lessons or can be used as stand-alone activities.
He chose the Shepherds - Song Time activity sheet and lyrics - download here
He chose the Shepherds is from the album below: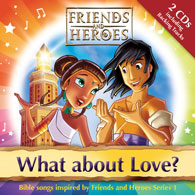 What about Love? : Bible songs inspired by Friends and Heroes Series 1 The people who brought you Friends and Heroes DVDs now bring you fantastic Bible songs for the whole family! Inspired by Friends and Heroes Series 1, these songs will have you singing along to Biblical truths, helping you to remember stories that will change your life! With 13 Bible songs plus six bonus songs and full backing tracks for each song, this Double CD pack is an amazing value!
To see the full track listing hear song samples and download free song lyrics, click here.
You can order this fantastic music CD from our online store. Click here for purchase information.
---
Did you know that Friends and Heroes provides a wide variety of resources for educating and ministering to children? You can view a list of resources here.