$decoded_title = html_entity_decode ($title); ?>
Series 2 and 3 DVDs now available in North America!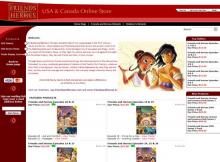 We are delighted to announce that our North American Online Store is now stocked with Friends and Heroes NTSC DVDs. This marks the release of Series 2 and 3 for that continent!
These DVDs are the International Versions with ten fully dramatised language soundtracks in: Arabic; Chinese (Mandarin); English (in Dolby 5.1 Surround Sound); English (with Audio Descriptions); French; German; Hindi/Urdu; Korean; Portuguese (Brazilian); Russian and Spanish (South American). This makes the DVDs ideal for many ethnic groups and also for language teaching by viewing subtitles in any of the languages listed.
As well as the single DVDs, you can also purchase the Series 1 and 2 Packs containing all 13 Episodes in each series in an easy-to-store slip-case.
The final part of this release is the new Licence and Lesson Packs which provide any easy and convenient way for organisations like Churches and Schools to obtain a lifetime Public Display Licence and be given a FREE CD-ROM containing two sets of Lesson Plans - one for Children's Ministry and one for School use.
Click here to go straight to the store.