$decoded_title = html_entity_decode ($title); ?>
Friends and Heroes on the road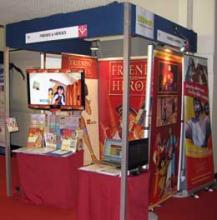 Friends and Heroes has been on the road during May, visiting the Christian Resources Exhibition at Sandown Park, Esher (above) for four days. We met many Church leaders who already use the programme in their children's ministry and many more who plan to very soon. We also met a number of our retail partners who make the DVDs available through their bookshops. It was a very busy time but meeting so many happy users made it highly enjoyable.
The late May Bank holiday weekend was an opportunity to join many thousands of families at The Big Church Day Out near Worthing in Sussex (below). It was the first time we have ever erected a stand in a field and that brought some interesting challenges! This two day event was excellent and we made many new friends - several children refusing to move away from our TV.
You can view our events diary here - please come and visit us at any of the events listed!