$decoded_title = html_entity_decode ($title); ?>
Warrington girl wins Bible story competition!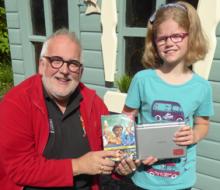 Anna Naomi Marshall, aged 9, from Warrington has been declared winner in an exciting interactive competition run by Plus Eagle Wings (PEW) and Friends and Heroes.
To win the competition Anna had to view the Old Testament story of Ruth taken from Friends and Heroes, Episode 7 and then correctly answer a series of questions about the story. Her entry was chosen from a multitude of entries received. Anna's prize, a limited-edition Friends and Heroes DVD player with a DVD, will allow her to watch her favourite DVDs at home, on holiday and even in the car.
(Anna is photographed receiving her prize from Friends and Heroes International Director, Dave Carlos.)