Dynamic Multimedia Resources
for Churches, Schools and Families
---
Get ready for a special Christmas
with Friends and Heroes!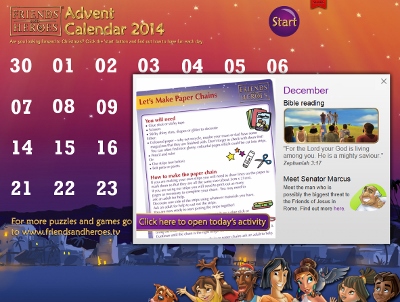 Children and families will love our FREE 2014 online Advent Calendar with goodies for each day of Advent, including videos, activities and puzzles and daily Bible readings to help them prepare for the season ahead!
To see the calendar for yourself go to www.friendsandheroes.tv/advent, but be patient! You won't be able to open the daily activities until the appropriate day arrives!
---
Friends and Heroes in the Church

We asked three churches to tell us how they use Friends and Heroes. To see what they said, view our short video below
(With thanks to Teignmouth Baptist, Penn Christian Centre and River of Life churches for their help in producing this video.)
To find out more about our resources for churches click here
---
Friends and Heroes in the Classroom
See how Friends and Heroes can work in your Primary School, view video below
(With thanks to St Leonards CE Primary School in Walton le Dale.)
To find out more about our resources for schools click here