Church Bible Lessons for Children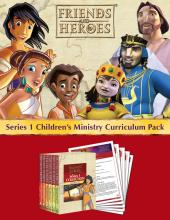 Want to bring the Bible to life for your children's ministry?
Try Friends and Heroes exciting, easy-to-use children's Bible lessons!
You will love this children's Bible curriculum:
  ✔ Based on Friends and Heroes award-winning video material.
  ✔ Helps children learn and apply Bible stories.
  ✔ Active, fun lessons designed to engage all children—both boys and girls!
  ✔ Teacher-friendly materials designed to help your ministry equip more volunteer teachers than ever before. 
Friends and Heroes Bible Lessons are provided via download with the purchase of a Friends and Heroes Church and School Pack.
Already have access to the video material through streaming or previously purchased DVDs? 
License and Lesson Upgrade Packs are now available!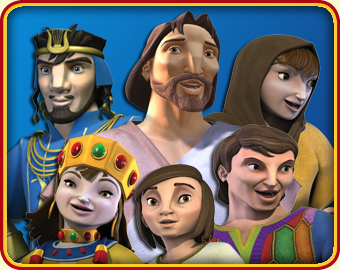 Many churches and ministries find Friends and Heroes Children's Bible Curriculum to be ideal for:
Children's Sunday school lessons / Sabbath school curriculum
Mid-week kids activities and outreach
Children's church lessons
Special children's ministry events, family activities, and much more!
You can try Friends and Heroes lessons risk-free for 60 days! 
Click here for full trial details.
To learn more about the curriculum, please choose from the following options:
Quick Facts:
Bible stories: The curriculum provides a balance between Old Testament and New Testament stories. You can see a list of the Bible stories and learning objectives here.
Length of video segment used in each lesson: 12 - 14 minutes on average (each lesson uses approximately one-half a Friends and Heroes episode).
Length of entire lesson: Easily adaptable to a 45 - 60 minutes class time.
Designed for ages 5 to 12 years.
Lessons per pack:
     Series 1 Church and School Pack - 26 lessons
     Series 2 Church and School Pack - 25 lessons
     Series 3 Church and School Pack - 26 lessons
Each Lesson Includes:
Introductory page - (Teachers' resource) Lists the objective(s) for the lesson, a summary of the Friends and Heroes adventure and Bible story, preparation tips and resources needed for any crafts and/or activities included in the lesson.
Starting off - Introduction for the children to the material which will be covered in both the DVD and the lesson - usually a fun craft, game or activity which introduces the lesson's theme.
In deeper - Leads the children to discuss and apply the theme of the lesson. Often includes discussion questions and sometimes another activity to keep the children engaged with the theme or the story.
Prayer Time - Includes a craft or activity which is designed to lead the children into thinking about prayer in relation to the theme of the lesson. In some lessons they are asked to write their own prayers and in others a group prayer is suggested.
Printable Resources - (Teachers' resource) Included for nearly all lessons as needed. They are very helpful and well-designed resources – especially for those who may have limited arts and crafts skills!
Extra, extra! - Fun activities that children can take home with them and often take the form of a puzzle or quiz.
Other Available Resources:
DVD Extras - Still images gallery, music videos, quizzes for each episode
Friends and Heroes Children's website provides many additional resources like quiz questions for each episode, fun puzzles and coloring sheets.
Bible Stories List
You can view and print the lists of Bible stories in all three series of Friends and Heroes here.
Bible Lesson Objectives
You can view, download, or print the full list of learning objectives in all three Series of Bible Lessons, click
here
. 
Children's Activity Website
Teachers often find much of the material on our award-winning children's website to be extremely useful in the classroom. This site is filled with exciting puzzles, quizzes and games, plus information on people and places from the Bible and Friends and Heroes characters and storylines as well.
Two sample lessons, the first corresponding to the video clip below, are available to help you to examine and consider how you might use Friends and Heroes Bible Lessons in your Children's Ministry (please don't use these samples in your group unless you have obtained the appropriate Friends and Heroes DVD, along with a Public Display License).
We recommend that you first download and print the sample lessons and then watch the video segment. This will help you to see more easily how the curriculum and videos work together.
Click below to download two sample lessons:
here
to register for our e-mail newsletter.
Click the image below to view the video excerpt.
Watch the video below to see what three UK churches have to say about their experience with Friends and Heroes children's Bible curriculum.
Click the image below to view the video.
Click
here
to learn how you can begin a risk-free trial of four weeks of Friends and Heroes Bible Curriculum with a full-money back guarantee.
If you have obtained a Public Display License from Friends and Heroes, you will have been given a private Username and Password in order to access the Bible Lesson materials - and your license permits you to reproduce these materials for use in your group - for as long as you continue to hold the Public Display License.
Download Bible Lessons
Church and School Packs - include video episodes on DVD, public display license and curriculum.
Click here for purchase details.
License and Lesson Upgrade Packs - include public display license and curriculum. (Designed for those who already have the appropriate video episodes on DVD, or via download or video on demand.)
Click here for purchase details.
Friends and Heroes also offers excellent School Curriculum, click here to learn more!