Publicity Materials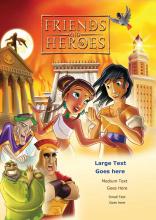 Invitation Pack
If you are already running Friends and Heroes events, activities or clubs or you are planning to do so in the future, you will want to let people in your local community know about them. So, we have created some material to help you advertise your events and activities. These items have been designed to print on both European and US paper sizes without any scaling required. We have included the following items in this Invitation Pack so that you can choose those which best fit the type of event or activity you are planning.
---
Tips for Working with PDF files
The resources in this pack are provided as PDF files which can be viewed and printed using Adobe's free Reader software.To install the Adobe Reader software on your computer visit: http://get.adobe.com/reader and download the appropriate version for your computer.
When you have installed the Adobe Reader software, you will be able to open the PDF files supplied. Each file has been designed to fit a particular size of paper and already has normal printer margins. This means that when you wish to print the files ready for your event you should always select Page Scaling of None in the Print dialogue box. If you select any other option from this menu you will find that your pages have wider white margins on all four sides. You may need to ensure that the Auto-Rotate and Center box is checked too.
The promotional material in this Invitation Pack has been created as PDF Forms to make them very easy to use. All you need to do is type the information which you would like to be printed onto the design in the appropriate box and it will be correctly formatted ready for you to print as many copies as you need.
---
Publicity Kit
Below you will find a number of items that will prove useful when creating newsletters, bulletins, webpages or doing other work to publicize your ministry featuring Friends and Heroes.
We hope you find these images helpful if you are featuring Friends and Heroes in your publication or website - they are free to use - please simply add "Images ©2010 Friends and Heroes Ltd".
The text belowcan be used as a starting point for your article, you are free to modify as you please.
Friends and Heroes on the TV
Friends and Heroes, an adventure series for children featuring amazing computer-generated animated Bible stories, has been broadcast all over the world on stations and networks including BBC, TBN and Legacy TV.
Adventures and Values
Based in a fascinating and turbulent period of history, 69-71 AD, Friends and Heroes places Bible stories in a vivid historical context. It uses animated adventure stories to introduce a new generation of children, to the stories of the Old and New Testaments in an appealing, fresh and memorable way. Children love the stories: "Friends and Heroes rocks!" said one recent e-mail. Boys are strongly attracted by the central male characters, the danger and the exciting action! This approach - of setting Bible stories in living context among the people who kept them alive, by passing them on 'down the line' to children - runs throughout the series as a constant motif.
Friends and Heroes is the tale of two young people - Macky and Portia - whose idealism and friendship leads them across the ancient world, from the fabled Egyptian port of Alexandria, to the besieged city of Jerusalem and finally, to the very heart of the Empire: Rome. As they fight for justice and even survival against the might of the Roman Empire, they become friends and then, in turn, heroes. Like our heroes, children will be empowered by what they see and hear, as they share the courage and compassion, the everyday dangers faced by Macky and his friends.
Fascinating Children's Website
The Friends and Heroes children's website is full of fascinating info, video clips, puzzles and activities at www.friendsandheroes.tv. Children will find Bible stories to read or listen to, biographies of many characters including some Biblical characters, downloads, games and great material to support projects on the Roman and Biblical periods of history too!
Feedback
We'd love to hear how you are using this material and any suggestions you have about how we might improve this Invitation Pack. E-mail us at: mail@friendsandheroes.com