About Us - USA & Canada
Friends and Heroes, a UK produced animated adventure series for children, featuring Bible stories from both Old and New Testaments, is broadcast in the USA and Canada on the TBN Network. 
Previously released in a single episode English only DVD format, Friends and Heroes DVDs are currently available in a multi-language DVD format with at least two episodes on each disc.  The new multi-language DVDs and Friends and Heroes music are now available from our online store. 
Teaching curriculum and public display licenses are available free for schools, churches and other organizations with the purchase of Friends and Heroes Series Packs.
North America Office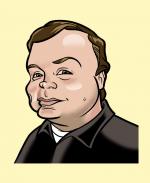 We have opened our North America office and created our North America Online Store to better serve the families, schools and churches of the USA and Canada.

Tom Stilwell leads the team as North America Sales and Marketing Director. Tom has been in church leadership for over 20 years and also has strong experience of retailing in both the Christian and wider North American markets. Tom and his wife have seven years of homeschooling experience with their three children. Tom will be ensuring that as many children as possible see the Bible stories in Friends and Heroes via our new Multi-Language DVDs.
Friends and Heroes on DVD
Friends and Heroes DVDs of Series 1, 2 and 3 are now shipping in USA and Canada from our Online Store.
These DVDs are the Multi-Language Versions with ten fully dramatized language soundtracks in: Arabic; Chinese (Mandarin); English; French; German; Hindi/Urdu; Korean; Portuguese (Brazilian); Russian and Spanish (South American). This makes the DVDs ideal for many ethnic groups and also for language teaching by viewing subtitles in any of the languages listed.
You can also purchase Series Packs containing all 13 Episodes in each series in an easy-to-store slip-case.
Lessons and Public Display Licences
Friends and Heroes Series Packs provide a great way for organizations like schools and churches to obtain a free public display license plus free access to our Bible lessons for churches and new school lessons.
Licences for public display of Friends and Heroes episodes and materials when an admission fee is charged can be obtained online from the UK online Friends and Heroes store.

Previously released - English only DVDs
Prior to the release of the Multi-Language DVDs mentioned above Friends and Heroes Series 1 DVDs were published in USA and Canada by Tyndale and were available from local bookstores. You may still be able to find these single-episode DVDs locally.
Each single-episode, English only DVD contains a full Friends and Heroes episode, some exciting extras, and Bible curriculum lessons as PDF files for use from your computer.
To access the PDF lessons from your English only DVDs:
Insert the DVD into a computer

Right Click on the DVD-ROM drive in "My Computer" (often it's the "D" drive)

Select Explore and then Click the "ROM-#" folder (# is the Episode number)

Open the "rom" folder

Click on the PDF lesson you'd like to view
Friends and Heroes Music
Download "Looking for a Hero" - sung by Lauren Waterworth - or the great instrumental music from the episodes.