Bible Lessons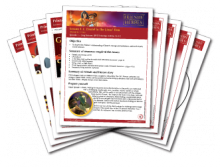 Welcome to everyone working with children in Churches, Church Clubs, Holiday Bible Clubs and Sunday/Sabbath Schools.
If you have been supplied with logon information click here to jump straight to the Bible lessons link
If you are looking for lessons to teach in school please see the School Lessons page
We are a small Anglican Church which had no children in its congregation. We have had a total of 42 children attend the [Friends and Heroes] programme and a number of these have had 100% attendance. We were able to have a Children's Christmas Play for the first time in about 10 years. Rev. J R To read more click here

"I am genuinely impressed with the quality of the animation and integrity of the Bible stories depicted. I have been responsible for Children and Youth Ministry in several churches over the 30+ years of my ministerial career. Your DVDs are well received by our children and their families and I have used them confident in their Biblical content. We are looking forward to our third instalment of the videos available! Children's Ministry Leader
Bible Lessons for Churches
Friends and Heroes has created a series of Bible Lessons with two lessons for most episodes - each lesson based on one of the episode's Bible stories and themes. Ideal for most children's ministry situations, these lesson plans are currently provided free as downloads to those who purchase the associated Series Pack.
Children's Ministry Leaders may also find much of the material on our children's website to be extremely useful in their groups.
Two sample lessons are available to help you to consider how you might use Friends and Heroes Bible Lessons in your Sunday/Sabbath School or Children's Ministry. We invite you to try these lessons with your children, without the need for a Public Display Licence. These lessons correspond to two video clips which can be accessed below.
We recommend that you first download and print the sample lessons and then watch the video segments. This will help you to see more easily how the curriculum and videos work together. These lessons can be downloaded by clicking on the links below:
We hope you like the material you have downloaded on this page and we'd like to keep-in-touch with you, so please tell us who you are by clicking
here
to register for our e-mail newsletters.
Click the image below to view half of Episode 1
(including the story of Daniel in the Lions' Den).
To view the second FREE half episode with the story of Jesus feeding the 5,000 click here. (You will be asked to login to your account. Don't worry if you don't already have an account - creating one is FREE and only takes a moment!)
You can view and print the lists of Bible stories in all three series of Friends and Heroes here.
We have produced a special Leaders' Leaflet about the Friends and Heroes material - why not pass this on to your fellow-leaders to introduce them to the lessons?
Download
We have created free activities to complement the Friends and Heroes music CD, What about Love? : Bible songs inspired by Friends and Heroes Series 1. These may be used as optional additions to Bible lessons or can be used as stand-alone activities.
You can learn all about the Song Time activities by clicking the link below:
Song Time activities
These are 'business-card' sized invitations for children to visit our children's website. There is so much more for children to do after a session when they go to our website - including reading or listening to many of the Bible stories in Friends and Heroes!
Download
If you have obtained a Public Display Licence from Friends and Heroes, you will have been given a private User Name and Password in order to access the Bible Lesson materials - and your licence permits you to reproduce these materials for use in your group - for as long as you continue to hold the Public Display Licence.
You can access the Bible Lessons using the link below:
Bible Lessons
---
To view the files provided you will need a pdf file reader such as Adobe Acrobat Reader which you can find here
---
I showed the 1st episode to my 3 - 4 years old audience on Sunday; you could actually hear them breathing. The room went completely silent and quiet all through the video. There was not a pip or sound in the auditorium. Normally, the class is riotous with 40 to 50 under 5 year olds, but on Sunday (after the normal worship in the class), when I showed the DVD - It was a marvellous revelation. The Children were all captured in awe of the quality, the sound, the story line and the beauty. They related so easily with Macky, Portia, Rebecca, Leah, and the parrot, Pontius. At the end of the first scene, a loud scream came out from all of them at once asking for more. The DVDs have got my group asking unbelievably mature questions about God and Jesus. It has brought a thirst for knowledge that I have never seen before." JO
"I am still using the first and second series and will soon be purchasing the third. The children absolutely love the episodes and I love the ideas that are given in the teaching lesson plans. I truly am grateful for people like yourselves as these resources help make the Bible so much more alive for the children and with all that the world has to offer children today, it is so important that we as a Church, can stay relevant and exciting! May the Lord richly bless you all as you seek to reach more children (and adults) with God's Word. Many blessings." ML
"Although we have not yet watched all the DVDs, those we have were greatly enjoyed by our youngsters (aged 3-10 years) and I have found the lessons to go with them very good and easy to use. We all look forward to watching the whole series over a period of time and I am sure that they will continue to be used for many years to come." SJ